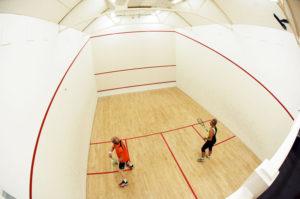 Welcome to Desford Squash Club.
Desford Squash Club has 2 squash courts.

Court 1 is located in the main building and is accessed during normal Sport in Desford opening hours as advertised on the web site. When the main building is closed access is via the bridge between the 2 buildings. Members may purchase a door key for £5, refundable when your membership ends.
Court 2 is available 6am-10pm. The member's key allows access  to the outside building.

Squash club membership is £25 per annum for adults and £15 for juniors under 21 years old.
The membership fee includes an affiliation fee of £16 per adult and £8 per junior to Sport in Desford.
The contribution to Sport in Desford allows you a discount if you wish to join the gym or tennis club for instance.
Court fees are only £4 per 40 minutes and members may book up to 2 weeks in advance using the online booking system. A booking fee is 50p.
Court lights are operated by coin meters which accept £1 and 20p coins. £1 for 10 minutes.

Thursday night is club night. We play a round robin style from 6pm-8pm. All members and standards are welcome and the cost is only £2 pp.
TEAMS
We have men and ladies teams in the Leicestershire Leagues.
The Club is run by volunteers who deal with memberships, court fees, Leicestershire league fees and fixtures, maintenance issues and liaison with SiD management.

Chairman and Membership Secretary: Ron Buck. 01455 824922.
Treasurer : Adrian Howe. mobile: 07971 894631.
Ladies Captain: Jackie Walters 07976 640708.


Click on the link below for a membership application.
    Membership Application