Football
Desford FC run teams across all age groups from reception year to veterans. We are also a FA Charter Standard Community club which is the highest accreditation we can achieve.
Click here
Peckleton Lane Pitch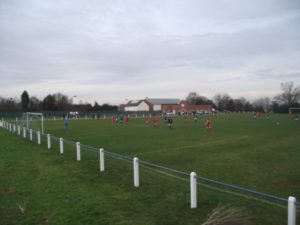 This is SiD's main pitch located on the main site at Peckleton Lane. The resident club at Peckleton Lane is Desford Football Club with 5 teams playing on this pitch.
TEAMS:
1st Team = Neil Costello – 07974657701
Reserves  = Craig Mcadam – 07852281571
Girls teams u10 & u15= Rob Portch Robert.portch@officedepot.com 07590 246854
  Ladies = Phil Faulkner 07764 694564 [1] sales@kpecltd.com
All Youth teams contact = Simon Goodman simon.goodman@live.co.uk 07849 628088
Bosworth Academy top field
This is a completely separate provision in the village but now provides an excellent facility for the Desford FC junior teams that have developed from 3 to 17 teams over the past 6 years, thus expanding way beyond anything SiD could provide. The Academy have now allocated this field for junior football and have permitted DFC to set up their own Portacabin to store equipment and provide their own facilities.
Desford FC Juniors (17 teams):Simon Goodman simon.goodman@live.co.uk 07849 628 088
Kirkby Road Pitches
The Changing Rooms at Kirby Road offer full changing facilities for 4 teams with excellent hot showers. They provide facilities for the 2 full size pitches on the adjacent recreation ground, which are some of the best draining pitches in the County. This season the pitch allocations are at full capacity as below;

TEAMS: KIRKBY ROAD
LARGE PITCH / SMALL PITCH
Desford FC: Rob Portch 07590246854
Desford FC Vets: Manager Simon Goodman: 07849 628088:
Desford FC Under 13 boys: Manager Matt Irish -07488259233
Desford FC  under 15 Girls: manager – Glenn Evans – 07581362822
Desford FC U15 boys – Liam – 07542248310
Desford FC Under 16 boys: Manager Ron Hobden – 07545537277
Local contact Jim Houghton on jimhoughton2@gmail.com or 07967 353 790

Sport in Desford is a Registered Charity (No: 1100319). All content on this website is protected under copyright law.