Table Tennis


We have an excellent provision for Table Tennis in the spacious and well lit Scout Hall with room for 6 tables in action at once. Table tennis takes place on Fridays with the U3A club 10am to 12 noon and Tuesdays and Fridays (All Welcome) 14:00 – 16:00 for adults.
The Junior Club runs on Fridays 16:45 – 19:30 (including school holidays). The junior session for anyone, including disabilities, females/males and ages is for juniors aged between 7-14 years. Come and give it a try!
Only £2.00 per player/per session.
Junior
LETS GET TROPICAL SiD Tropics Table Tennis Club. The club is up and running; if you want high octane table tennis drills, shots, serves and airborne smashes then join Tropics for table tennis every Friday between 6 and 7.30pm. Everyone welcome if you're under age 16, for fun games and practice matches £2 each. So channel your inner Desmond Douglas and lets get Tropical!
Contact Andy Wright on 07748 251 546. Email: andyandpearl@virginmedia.com
Adult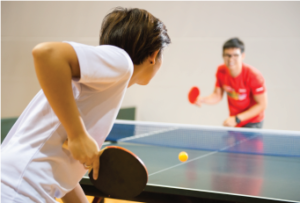 Open sessions on Fridays 2pm to 4pm at a fee of £1 per hour, so bring a friend and give it a try! 4 tables available in the Scout Hall.
Contact Jim Houghton 07967 353 790 Email –  jimhoughton2@gmail.com or Raymond Poon 07476761890 Email – rcforsale@gmail.com
University of the 3rd Age
Sessions 10am to 12pm on first and third Fridays of the Month. Come along and give it a try in the Scout Hall and join later if you like it. For more information please contact Roger Prescott on 07984 400605, by email atwlu3ainfo@gmail.com or visit our website at u3asites.org.uk/westleicestershire

Sport in Desford is a Registered Charity (No: 1100319). All content on this website is protected under copyright law.