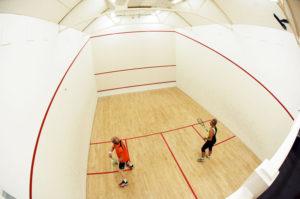 Club night
Welcome to Desford Squash Club.
Desford Squash Club has 2 squash courts. Court 1 is located in the main building and is open during normal Sport in Desford opening hours as advertised on the web site. Court 2 is located in the separate building next to the tennis courts as you enter the site and is available 24/7 to members (key required).
Squash club membership is £25 per annum for adults and £15 for juniors under 18 years old.
The membership fee includes a membership contribution of £16 per adult and £8 per junior to Sport in Desford. The contribution to Sport in Desford allows you discounted access to other facilities in the complex such as the tennis  club and the gym.
Court fees are only £4 per 40 minutes and members may book up to 2 weeks in advance using the on-line booking system.  There is a booking fee of 50 pence to reserve a court and there is a check-in kiosk situated on the balcony of Court 2. However, in quiet periods it may not be necessary to book a court if you decide to turn up 'on spec'. Members can always check on-line to see which courts have been pre-booked.
Court lights are operated by coin meters outside each court which accept £1 and 20p coins. £1 for 10 minutes.
Court 2 is available 24/7 as members can purchase a key (£5 deposit on joining) which allows access at any time to the outside building.
Court 1 in the main building is only available when the main building is open.
Every Thursday we have a club night for just £2 per person where the members play social round-robin squash. Players of all abilities take part; ladies, men and juniors and it is an opportunity for new members to meet other players in a social atmosphere and test their skills against other players of the club. We also welcome prospective members to try out the facilities and meet the members.
There are changing and shower facilities in the outside court building which were refurbished in 2018. Due to space limitations this changing room is unisex with a lock on the door to ensure privacy when in use. There are 3 modern showers, a WC, a hand basin, hairdryer and hand dryer with wall heaters for the cooler weather.
The Club is run by unpaid volunteers who deal with memberships, court fees, Leicestershire league fees and fixtures, cleaning, maintenance and liaison with SiD management.
Membership application forms are available on the notice boards outside each court and should be sent to Ron Buck.
Download Squash Club Application
Chairman and Membership Secretary: Ron Buck. 01455 824922.
Treasurer : Adrian Howe. 01455 828748, mobile: 07971 894631.
Ladies Captain: Jackie Walters 07976 640708.