Press release from Sport in Desford
SiD wins national award at Decentralised Energy Award Event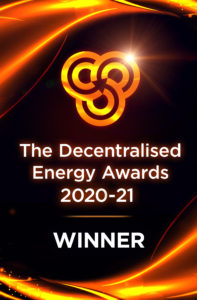 At the much delayed presentation ceremony on Zoom at 12pm on Wednesday 16th June, SiD was announced as the winner of the national Decentralised Energy Awards 2020/21 – Power: Operational Projects Award.
This was achieved against the competition of major projects from Centrica Business Solutions and an nPower 7MW solar Farm with 4MW battery in a West Sussex landfill site. This is an amazing achievement for a small community sports organisation up against national energy providers.
Over the past 12 years SiD has replaced Propane boilers with modern condensing natural gas boilers, double insulated throughout the clubhouse building, deployed 176 solar panels on every available roof (44KWp) and installed LED lighting in all major areas. In addition we have installed 6 Tesla Powerwall batteries (81KWh) to save daytime solar generation to power floodlights in the evenings and finally installed a double 22KW Electric Vehicle Charging Station on the front car park for public use. As a result SiD is a net generator of electricity on an annual basis.
Sport in Desford is a voluntary non-profit making organisation operating as a Registered Charity (No. 1100319) and set up by the Desford Parish Council in 1988 to promote sport and recreation in the local community. SiD has a strong inclusive and environmental ethos (as above). Specifically SiD provides facilities for the local Football, Tennis, Bowls, Squash, Netball and Running Clubs, Scouts, Gym and a dozen indoor activities. Under normal conditions around 1,000 people use our facilities every week, although this remains at a lower level currently due to the restrictions of the Covid -19 pandemic.
We were required to produce a Powerpoint presentation to support our application for this award and you can see it here: Energy at SiD Presentation It was produced by Sue Houghton in collaboration with grandson, Joseph Roberts. Thank you Joe and Granny!